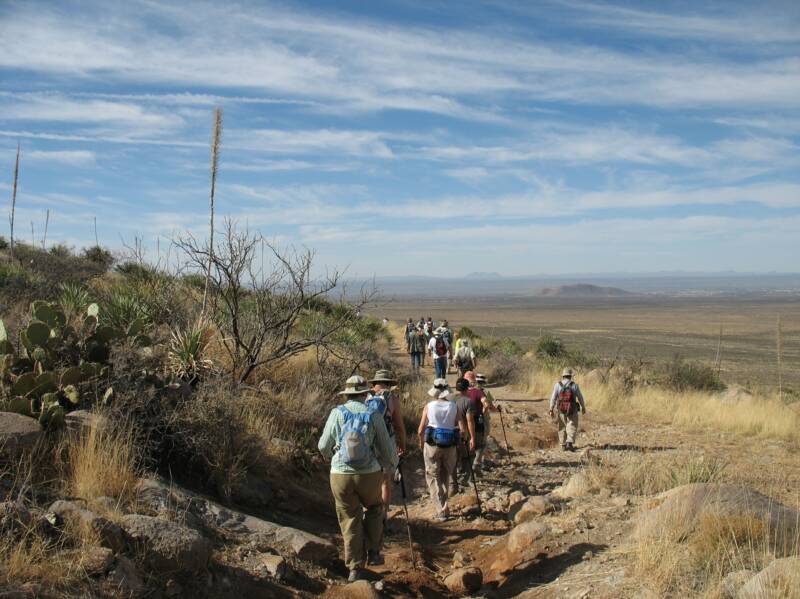 Ocotillo Hikers                     of  Las Cruces

History & Background


General Information

We are an informal group and would like to maintain this informality as much as possible.  No one person is in charge, although we do defer to the more senior and experienced hikers.  Since our hikes are rarely on a specified trail, for safety a guide and sweep will be designated. It is important that each hiker stay within sight of the group.   During snake season, it is best (safer) to follow in a line.  Although there is no charge or fee for a hike, a donation for gas money to your driver is strongly suggested and sincerely appreciated (See guidelines below). 

Each hike is an adventure.  All situations and problems cannot be controlled.  This information does not replace your own sound judgment and good decision-making skills.  It is not intended as a comprehensive explanation of all potential hazards and risks involved. Therefore, each hiker must accept the possibility of risk and hike responsibly.  Be sure the guide is aware of any medical or other conditions (ex. Bee sting allergy) that may cause difficulties on a hike. 

A hike may not be the hike that was advertised! 

Many things can cause a change to a hike such as:


A drastic and unexpected change in weather;

A sudden illness or hiking injury;

A complete change of hike due to wind or group needs;

Washed out or inaccessible roads or damage to a hike vehicle.
Remember:  Return time cannot be guaranteed.

Suggested Guidelines for Ocotillo Hikers' Safety and Enjoyment

Each hike will have a guide (one who knows the hike) and a sweep (designated last person           in line).   Each should carry a walkie-talkie.

Please turn cell phones off.  If you must make or take a phone call, please step off the             trail so as not to disturb other hikers.

If you need to leave the trail for any reason (nature call or cell call), notify someone (preferably) or leave your pack on the trail.  The sweep will wait for you.

Important:  When you need a rest – ask immediately!  We will stop!

When coming to a turn, hill or fork in the trail, wait to assure the next hiker in line knows        the direction to follow.

Be aware of who is behind you, and keep them in sight (check periodically.)  Stop until             they come into sight before proceeding.

Hikers in front (runners) should be aware of how spread out the group is getting and slow down or stop when necessary. 

Wear hiking boots that are appropriate for the hike (i.e., rocky terrain requires a different boot than a groomed trail).

In summer, hydrate before, during and after the hike.  Leave water in the vehicles for later.

Light colored and light weight clothing is best for summer.  Blue jeans or other heavy               clothing can cause heat prostration or stroke.

A small spray bottle can provide additional cooling.

Carry a whistle for safety.  

One long whistle blast = stop, wait for me.  

Three (3) short blasts, repeated = help, danger!

When you hear a whistle, return the call to alert the rest of the line.

Avoid making appointments following hikes.  Return time cannot be guaranteed.

Understand we are not EMT's.  We will do what we can to help any hiker, but we are not          trained emergency personnel!

Recommended Items to Carry in your Pack

Bring plenty of water!  Especially in hot weather.

Cell phone (ICE)* in case of emergency.

Plastic bags or rock bags (aka Rock Socks!)

Windbreaker or Poncho (esp. in fall, winter & spring), a garbage bag is a good substitute         for poncho!

Sun screen

ID and cash, personal medications

Whistle

Gloves, leather or other sturdy material.

Bandana (to use as hat, sling, flag…)

Emergency snack (power bar or such)

Other snack item if you want.

Other helpful items if you've got 'em!

GPS, walkie-talkie

Walking stick

Camera, Binoculars

Space blanket

Mini-first aid kit, Ace bandage

Snake bite kit (suction-type)

Pocket knife, tweezers, matches

Anti-itch ointment or stick, Aspirin, lip balm and insect repellant.

Tweezers

All of these items can be purchased at Big 5 or other sporting goods stores

Concerning Dogs

Bring your dog only after you have hiked the trail yourself, and are aware of the                     difficulty and length.

Bring your dog only if you are a driver or know a driver who is willing to transport your         dog.

Know the stamina and endurance of your dog.

Bring plenty of water and snacks, water dish, & leash.

Rocks can cut a dog's paws, goat heads and cactus spines hurt.

Be prepared to leash your dog when necessary, such as on steep trails or when                         approaching other dogs or hikers.

Be aware that all hikers are not comfortable with dogs or are not dog lovers.  Please               respect their feelings and comfort zone.

During snack time, control your dog so that all can enjoy this break.

Snakes and other wildlife/plants can be dangerous.

Plan what you will do if your dog is injured.

If your dog becomes a problem or nuisance, you will be asked to put the dog on a leash.           You may be asked not to bring the dog again.

Be aware that more than one dog may be on a hike.  Does your dog play well with others?         Can you control your dog when other dogs are present?

Support for the Drivers

We are all aware of the price of gas these days, especially for an SUV or other 4-wheel drive vehicle.  And, gas is not the only cost.  Wear and tear, scratch and dent, and a carwash are also included.  So, please remember to contribute to the driver when on a hike.  Remember, without them our access to the majority of sites would not be possible or severely limited.

Suggested contributions:

$3 to $4 = local hikes, including Dona Anas, Soledad, and East side of Robledo Mtn.

$5 to $8 = Faulkner Canyon, Broad Canyon, Aguirre Springs

$10         = Cloudcroft

$15         = Hillsboro, Monticello (distances of 100 miles one way)

When in doubt, be generous.

Try to balance the number of riders among the designated drivers so that each driver is remunerated equitably ( e.g. 6 riders in one car and 2 in another is not equitable to all drivers).  Please help us in balancing the passenger load -- in the long run it will ensure us that we will have drivers that are willing to share their vehicles on our hikes.

We wish to express our thanks to all the drivers who subject their vehicles to not only the rough terrain, but the trials and tribulations of the wonderful Ocotillo Hikers!!

Heat-Related Emergencies - What you need to know

(Source:  American Red Cross First Aid Manual and the Mayo Clinic)

Heat–related emergencies are progressive conditions caused by overexposure to heat. If recognized in the early stages, they can usually be reversed without medical treatment.

Heat Exhaustion is the early stage when the body's cooling system is becoming overwhelmed. If left untreated it may progress to the life-threatening stage of Heat Stroke, when the body's systems stop functioning and immediate medical attention is necessary.

Look for the following signs of Heat Exhaustion, which indicate that the body's cooling system is becoming overwhelmed: following signs:

Cool, moist, pale, ashen or flushed skin

Headache or nausea

Dizziness or feeling faint

Weakness or exhaustion

Heavy sweating

Take immediate First Aid steps when someone is showing signs of Heat Exhaustion:

Get the person out of the sun, to a shady spot or air conditioned area.

Lay the person on side if possible, with legs and feet slightly elevated.

Remove as much clothing as possible to encourage evaporative heat loss from skin.

Cool the person by spraying or sponging with cool water and fanning.

Apply ice to back of neck, wrists, ankles, armpits and groin for maximum blood cooling.

Encourage person to drink cool water or diluted juice, adding salt or electrolyte product to liquids if available.

Monitor carefully, calling for emergency assistance if person stops sweating, refuses liquids, vomits, develops a high fever, shows confusion, has seizures or faints.

Precautions You Should Take

·   It can take 24-48 hours of "easy living" and rest to fully get over an episode of heat exhaustion.

·   Bananas, salty snacks, lemonade, tomato juice and fruits and fruit juices in general are  good choices to help get your electrolytes replenished. Bring on those tortilla chips! (But nix on the dehydrating alcohol!)

·   Remember that following an experience of heat exhaustion a person often is more sensitive to heat and prone to heat exhaustion/stroke for several months after.  

.   Don't forget to drink more water before, during and after our hiking adventures, and make sure you are taking in enough salt—if not using an electrolyte supplement as a precautionary measure.

An Adventure in Off-Trail Hiking

                                                          Ocotillo Hikers

                                                          (The Beginning)

"Hey Carol, did you see that rabbit dash up the hill", I asked as we were hiking at Dripping Springs.  Hi, I'm Hildegard, and that was 1997.  Carol and I had just met and discovered we both loved the outdoors here in Southern New Mexico, so we started hiking together.  Our first hike together was to Dripping Springs. Following that hike we tackled Pinetree Trail in the Aguirre Springs National Park.  By then, Monika and Candice had joined us and we were ready for more adventures.

The four of us decided to try for Aden Crater, way out in the desert.  We were all new at this and had never been out that far and were a little concerned that we may get lost.  We found Aden Crater and had a great time exploring it.  By word of mouth, more women had become interested in our expeditions and joined our little group.  We were growing fast, and that growth has continued to the present day.  We then expanded our range for hikes to include the Robledo Mountains, Achenbach Canyon and the Dona Anna Mountains as well as some other great places within the greater Las Cruces area.

In 1999 Joanna, a new hiker to our group, mentioned that she knew of a young man who had grown up here in Las Cruces.  She asked him if he wouldn't mind showing a bunch of older ladies some new and different hikes.  This is when Don joined us, thus becoming our first male member. Don took us to some wonderful areas that we would never have found by ourselves.  For a long time he was the only man and the youngest hiker in our group.  We continued to grow and little by little, more and more men joined our hiking group.  At this point, we decided our group needed a name, so we decided to call ourselves the Ocotillo Hikers.

Initially we limited our hiking efforts to what we felt was "great" weather and rarely hiked during the "hot" summer months.  Today we hike two and sometimes three days a week, year around.  We do, however, reschedule the summer hikes earlier in the morning to avoid the extreme daytime temperatures.

Over the years we have established some traditional activities which include a hike up Picacho Peak on New Years Eve Day, followed by a potluck lunch at one of the member's home.  Another activity for the members is the annual pool party and occasionally we hold a potluck lunch after a hike.  It has recently become a tradition for members of the hiking group to enjoy lunch together after many of the hikes and frequent the local eateries.

Our membership is comprised of hikers from all over the world and we have developed the most wonderful camaraderie imaginable.

Recently we have expanded our hikes, reaching out beyond the surrounding Las Cruces area, to include such far-away locations as Canyon De Chelly, Buckskin Gulch, Bryce Canyon, Zion National Park, Monticello Canyon and many other more distant hiking adventures.

During the years that we have been in existence there have been many friendships and close relationships that have formed as the result of our hiking adventures together.  Now, twelve years later, many have moved on for various reasons and I find myself as the only hiker left from those early days when it all started.

The love of the outdoors, and the natural beauty of this area, keep all of our members coming back each week for another great adventure in off-trail hiking.

See you on the trail soon,

Hildegard

  Archival photos of the early hikes      (work in progress)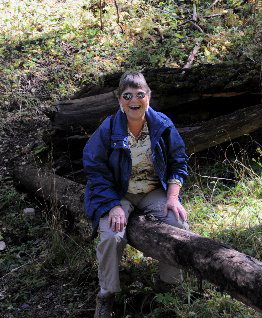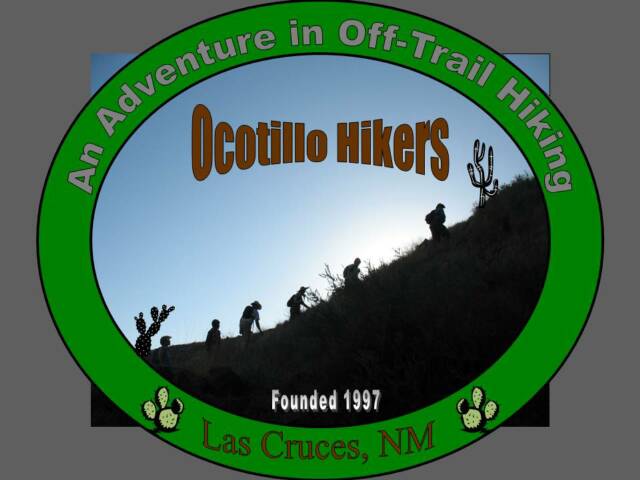 Click on icon to view Hildegard's Poem of her first adventure in hiking

© 2011 OcotilloHikers.org. All Rights Reserved.